By

Jesse

On

October 3rd, 2011

In

Uncategorized
By: Jason Joyce
The unpredictable nature of the harvest allows for all sorts of opportunities to the open minded winemaker. The small blocks we farm are tailor made for trying whatever experiment comes to mind during crush. And then, if you let your mind wander, one new idea leads to the next.
This year I wanted to try something a bit different with the Chardonnay. For the most part, every year we harvest the Chardonnay and the clusters are added directly to the press. The juice is pressed from the skins and the wine made from fermenting the juice with no infulence from the skins. I've tasted a few "skin contact" white wines recently and was intrigued. A "Skin contact" white is making white wine exactly like you make red wine, fermenting on the skins as opposed to just the juice. I'm not exactly sold on the concept as I feel the goals of making white and red wines are not necessarily the same, so techniques should not be the same. Never the less, I encourage you to go find these wines. Sometimes they are refereed to as "orange wines" due to the slight coloring the occur. Another way to find them is to look for "skin contact" or "on skins" in the production notes. It is always interesting to taste something that is done in a different way, a great example for tasting what skins add to the wine.
What I was interested in about fermenting white wine on the skins was not the skins, but the potential for carbonic maceration. I seldom "crush" berries during harvest. That is, use some mechanical device to crack the grape skins and release the juice. I use a lot of whole berry fermentation. Leaving the berry whole encourages a slightly different form of enzymatic fermentation within the grape itself. This type of fermentation is known to produce a more pronounced fruit character in the finished wine. Those of you who have tasted Paso Robles wines know that they tend to be big in all aspects. Using this technique to increase the fruit character allows the finished wine to remain balanced, not clunky or harsh due to the acid or tannins dominating.
In this spirit, a section of our estate chardonnay was destemmed after harvest, and the whole berries allowed to rest in our cold room under a blanket of CO2. After 48 hours, the grapes were pressed and the the juice treated the same as our whole bunch pressed Chardonnay. We'll see some time in spring how the flavors differ from the methodology.
A bonus feature of this method is that we ended up with a bin of chardonnay skins. This allowed for the next little experiment. Some of these skins were tossed into one of the Pinot Noir ferments that was just getting started.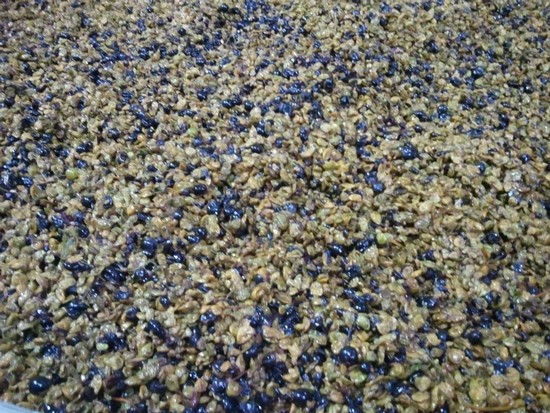 It has been rather common to add Viognier skins into Syrah ferments, adding delicate mid-palate flavors to the heavy Syrah. Pinot Noir is a much more delicate varietal, so it will be interesting to see what the Chardonnay skins add to the flavor.  Now, if I had a 20+ ton tank of Pinot Noir fermenting away, it would be rather insane to just chuck in the Chard skins and see what happens, because there is no guarantee that this will work. It might be beautiful, it might be horrible. When you have several 1.5 tons ferments going on, the risk is not that great. The small size of our ferments allows for this exploration without risking the farm. So, we'll see what happens.  I'll keep you posted on any other ideas that pop up over the next couple months. (Read the original)